Cheap Web Hosting
Have you ever pondered the plethora of web hosting options available in the digital realm?
I too, have fallen down the rabbit hole of searching for the most cost-effective web hosting solution.
As a fellow frugal entrepreneur, I embarked on a mission to scrutinize the top contenders in the web hosting world. I donned my virtual lab coat and conducted a series of performance tests to bring you the Cheap Web Hosting Comparison Guide for 2023.
As a savvy internet user on the lookout for the best bargain in website hosting services, I embarked on a thrilling journey to explore and compare various hosting companies. My aim was to analyze their performance, speed, storage, pricing, features, and special exclusive offerings.
With the culmination of my research, I'll help you find the perfect hosting plan for your website.
Cheap Web Hosting Pricing & Storage
To help you better inform yourself on services are available at low cost, view the web hosting comparison table below that's showcasing the web hosting pricing, storage, and features offered by each host company.
These are the most affordable web hosting plans available, which are perfect for beginners or small websites.
| Rank | Host | Price & Storage | Customer Support |
| --- | --- | --- | --- |
| 1 | Google Cloud Hosting | ~$6.00, 20 GB | 24/7 fair support |
| 2 | Bluehost | ~$3.95, 50 GB | 24/7 fair support |
| 3 | WP Engine | ~$30.00, 10 GB | 24/7 fast support |
| 4 | SiteGround | ~$26.00, 10 GB | 24/7 fast support |
| 5 | Kinsta | ~$30.00, 10 GB | 24/7 fast support |
| 6 | Godaddy | ~$5.99, 100 GB | 24/7 slower support |
| 7 | Cloudways | ~$10.00, 25 GB | 24/7 fair support |
| 8 | HostGator | ~$2.75, Unmetered | 24/7 slower support |
| 9 | HostPapa | ~$4.95, 100 GB | 24/7 slower support |
| 10 | A2 Hosting | ~$3.95, 100 GB | 24/7 fair support |
FYI:
Google's pricing is confusing because they don't post it directly on their website and different hosing review guide post different prices online. I've taken my best estimates based on pulling price data from multiple sources. But on the official Google Cloud Hosting Pricing page they ask you to request a quote. Image provided below.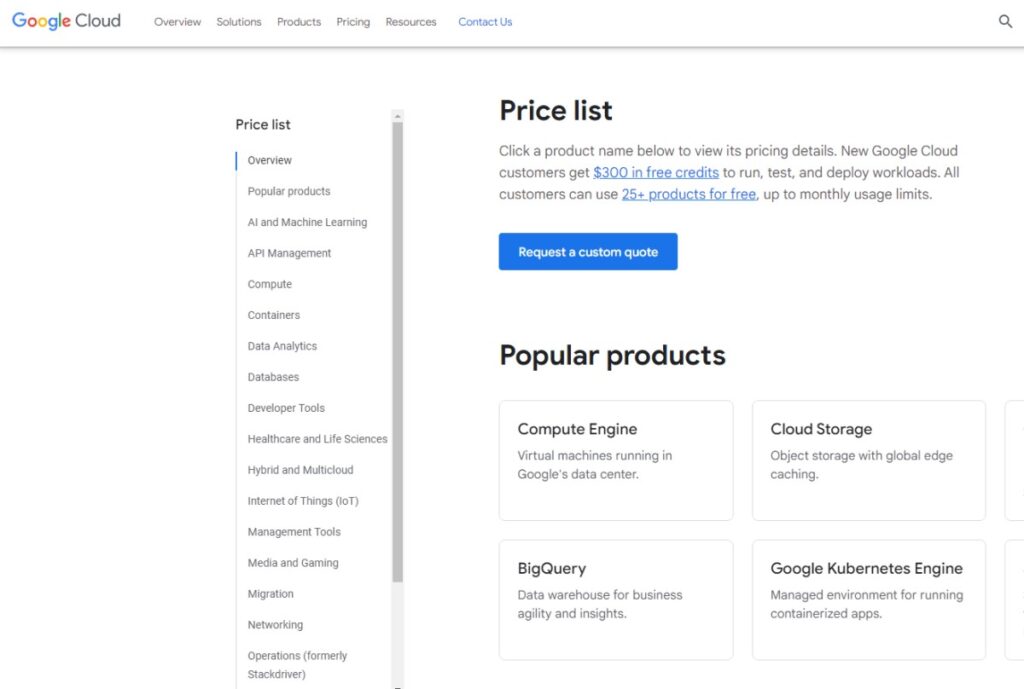 Now that I've explained all of that up to this point, its a good time to delve into the details and discover the best bang-for-your-buck with affordable web hosting plans in 2023.
Performance and Speed
When it comes to performance and speed, every millisecond counts.
A faster website not only improves user experience but also helps with search engine rankings.
To assess the speed of each hosting company, I conducted a series of tests using various tools and gathered the results in the table below.
| Rank | Host | Average Load Time (ms) |
| --- | --- | --- |
| 1 | Google Cloud Hosting | ~80-220 |
| 2 | Bluehost | ~650 |
| 3 | WP Engine | ~246 |
| 4 | SiteGround | ~100-500 |
| 5 | Kinsta | ~164-412 |
| 6 | Godaddy | ~292-448 |
| 7 | Cloudways | ~225 |
| 8 | HostGator | ~900+ |
| 9 | HostPapa | ~456-600 |
| 10 | A2 Hosting | ~263-295 |
Now that we have a clear view of the top contenders for cheap web hosting, let's take a moment to address some frequently asked questions that may arise when searching for the perfect web hosting service.
FAQs about Cheap Web Hosting
Q: How important is the speed of a web host?
A: Speed is crucial for a website's user experience and search engine rankings. Faster websites have lower bounce rates and higher conversion rates.
Q: What is the significance of uptime guarantee?
A: Uptime guarantee is the amount of time a web host guarantees that their servers will be operational. A higher uptime percentage means fewer interruptions and more reliable service.
Q: Can I upgrade my hosting plan as my website grows?
A: Yes, most web hosting providers offer easy plan upgrades to accommodate the growth of your website.
Q: What is the difference between shared hosting and managed hosting?
A: Shared hosting is when multiple websites are hosted on a single server, while managed hosting is a specialized service where the web host takes care of server management, security, and updates for you.
Q: Are there any hidden fees I should be aware of?
A: Some web hosts may charge additional fees for domain registration, backups, or SSL certificates. It's essential to read the terms and conditions before signing up.
Q: How important is customer support in web hosting?
A: Customer support is vital for resolving any technical issues or questions that may arise. Look for hosts with 24/7 support and multiple contact options.
Can I host multiple websites on a single plan?
A: It depends on the hosting plan and provider. Some plans allow you to host multiple websites, while others limit you to one. Check the plan details or inquire with the provider to ensure you choose a plan that meets your needs.
Q: What is the significance of storage in a web hosting plan?
A: Storage refers to the amount of disk space allotted for your website's files, images, and databases. It's essential to choose a plan that provides enough storage for your current needs and allows room for growth.
Q: Do cheap web hosting plans come with a control panel?
A: Most cheap web hosting plans include a control panel, such as cPanel or Plesk, to manage your website's files, databases, email accounts, and more.
Q: Is it easy to migrate my website to a new hosting provider?
A: The ease of migration depends on your website's complexity and the hosting provider. Many web hosts offer free migration services, while others may charge a fee. It's best to consult with the new hosting provider to ensure a smooth transition.
Affordable Hosting Comparison Conclusion
This web hosting comparison of cheap web hosting options in 2023 aims to assist you in finding the perfect affordable hosting provider to suit your business needs.
Now you have the essential information, making it easy to scan and compare the top low cost hosting providers.
Suggested Reading: Deciphering WordPress Hosting for Your Blog: Beginner's Guide
As you embark on your inexpensive web hosting journey, keep in mind the importance of speed, storage, pricing, and user friendly features to make an informed decision on who to host with.
Happy hosting friends!
About the Author: